World Teachers' Day is being celebrated in Australia on 25 October and the Australian Institute for Teaching and School Leadership (AITSL) is encouraging school communities to "recognise and appreciate teachers and the important role they play in shaping the next generation".
World Teachers' Day commemorates the anniversary of the adoption of the 1966 ILO/UNESCO Recommendation concerning the Status of Teachers. This Recommendation sets benchmarks regarding the rights and responsibilities of teachers and standards for their initial preparation and further education, recruitment, employment, and teaching and learning conditions.
The significance of this event has not been lost with the National Catholic Education Commission and a number of other bodies promoting the day and the celebration of our teachers to all of their school communities.
On its website, the Australian Institute for Teaching and School Leadership (AITSL) advises that this year it will be focusing on the #brightfuture of the profession including beginning teachers starting their career. It is also asking schools to celebrate the role experienced teachers play in both the classroom and supporting beginning teachers on their teaching journey.
Take a Moment to Reflect Back on Your Own School Days
We can all remember the teacher or teachers who were significant mentors in our lives. They were the ones who went beyond the everyday classroom routine and took time to invest personally in your education and to develop a strong teacher/pupil relationship with you.
They were the teachers who made a difference.
They encouraged you to read or take risks or to push yourself to achieve milestones that you may not have thought that you were capable of. They offered guidance, they gave you respect, they helped to scaffold your learning through engagement rather than fear, they were always fair and, above all, you felt bad if you let them down. Because of this, you have never forgotten them.
We should all have memories of inspiring teachers. Yes, we probably also have memories of the poor ones too-that is an unfortunate reality. However, I could almost guarantee that the good far outnumbered the poor. In my own life, I was inspired to become a teacher when I first watched Sydney Poitier in his iconic role in "To Sir With Love". But then, I was truly blessed to have exceptional teachers at my primary school and at Trinity College (Perth) where I spent nine wonderful years.
Michelle Mano, in her 2012 blog "Reasons for Becoming a Teacher" identifies three reasons why people want to become teachers. It isn't the money or the school holidays. Most aspiring and current teachers will tell you that they entered the profession because of a genuine desire to impact positively on young people's lives. Her three main reasons are to improve the quality of education, to give back to the community and to change the lives of students.
I would go on to argue that true teachers understand that teaching is not a career. It is a vocation. Many also have a desire to leave a 'footprint' or a legacy that reflects the changes that they were able to make in the lives of the children they taught and cared for.
Schools must encourage their beginning teachers to watch, learn and emulate the pedagogy of their mentor teachers-the ones who genuinely make a difference in the lives of their students. After four years of university, neophyte teachers basically commence an apprenticeship where their first school can help them to define the type of teacher that that they will become.
Why Should Schools Be Doing Something?
The education environment has changed in all schools across our country. Teachers are still the unsung heroes who are taking on more and more roles as working parents become busier and more time poor.
In a recent School Governance article we noted that for whatever reason, although not by all parents and not apparent in all schools, there seems to have been a shift in responsibility from parents to schools for more of the educational requirements of children. This is less apparent in the early years but has become far more apparent in the later school years. This generation of parents are so busy working to pay for their preferred home and lifestyle, that the time needed to really be responsible and accountable as an equal partner in their child's education journey may have been diminished. So, the teachers are picking this up!
Unfortunately, some teachers and education leaders have also become 'punching bags' for students and even parents/guardians who believe that they can assault teachers who are trying to do their job to educate students to become valid and useful members of our society-in what are sometimes very trying and difficult environments.
If we were to conduct a survey among the general population and ask them how many would be prepared to take on the role of a classroom teacher, I suspect that the take-up would be very minimal. Although people are quick to criticise teachers or to make outlandish claims that they work short hours and have long holidays, I suspect that they will just as quickly tell you that they do not want to have to 'put up with' the behaviour, the abuse and the general stress that the public associates with being a teacher.
Teachers do not do what they do for the money, or the kudos, or the school holidays. They teach because they genuinely want to make a difference in the lives of the children in their care. They teach because, like the character Mark Thackeray, they provide their students with a desire to want to learn, they encourage them to develop independence in many facets of their lives and, in some sad cases, they give them respect, care and true kindness that some children may not receive in their home environments.
What Could You Do To Raise Awareness Of World Teachers' Day?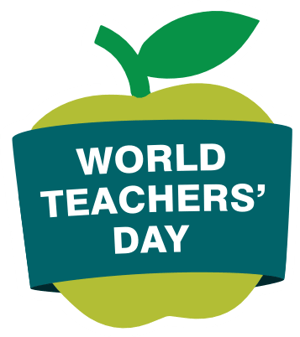 According to AITSL, schools could raise awareness of World Teachers' Day by:
planning an event

downloading and printing a series of posters to pin up

joining a live Q&A session with AITSL's Chair, Laureate Professor John Hattie from 5:30pm – 7pm (AEDT)

having newly registered and employed teachers download the AITSL 'My Induction' App.
Schools may also wish to conduct a special assembly or maybe a morning tea for their staff – to say "thank you" for a job well done.
Above all, schools should be encouraging their teachers to open their classrooms to the parents of your school and your wider school community so that they can see what teachers do in order to educate and care for their students.
Having current families and prospective families and students see the school in action, and having current happy parents speak positively about your school to other families, is marketing that is worth its weight in gold! It also showcases the talent that all principals know that they have within their academic staff- otherwise they would not be employed at their school!
And remember, teachers are at the forefront of good school governance in your school as they are the first line of student duty of care. They manage a myriad of risks on a daily and sometimes hourly basis, by capturing and managing incidents and then employing mitigation strategies to reduce those risks. We see that as good pedagogy.
In Summary
So, on World Teachers' Day, this Friday 25 October 2019, let's celebrate our teachers.
Let's remember the teachers who were instrumental in assisting us to be where we are now. Let's also encourage good quality students who are passionate about helping others to train to become the next generation of teachers.
And, above all, let's encourage the students in our schools to take just a brief moment to say "thank you" to the people who often spend more waking hours with them than even their parents to help them to achieve their dreams and ambitions for life.