CompliSpace and Bravehearts have partnered to create a new podcast series about the National Principles for Child Safe Organisations.
The National Principles for Child Safe Organisations reflect the 10 child safe standards recommended by the Royal Commission into Institutional Responses to Child Sexual Abuse (Royal Commission).
These Principles aim to provide Australia with a nationally consistent approach to creating organisational cultures that foster child safety and wellbeing. They have been endorsed by every state and territory, and all jurisdictions are now considering how to make compliance with the National Principles mandatory for all child-related organisations, as recommended by the Royal Commission.
The National Principles have a broader scope than the Royal Commission's child safe standards, and go beyond child sexual abuse to cover other forms of potential harm to children and young people.
The podcast series unpacks each of the 10 Principles, their implications, and ways to apply them.
School Governance readers are getting a sneak peek at the podcast series. This episode is about Principle 8 – Safe Physical and Online Environments.
In this episode, Deborah de Fina (CompliSpace) and Mathew Sinclair (Bravehearts) interview Ella Serry, Senior Education Advisor for the Office of the eSafety Commissioner. Learn more about the presenters at the end of this article.
In this podcast, the presenters discuss:
the work of the eSafety Commissioner
three risk schools have in relation to how they use technology: content, contact and conduct
how having written policies helps with all three risks
resources for schools
tips for talking to students
how to introduce new technology into your school
educating teachers and parents.
New Podcast: National Child Safe Principles
To listen to this preview episode, click here.
---
And be sure to download the White Paper, Managing Social Media Risks in Schools to learn more.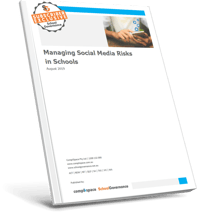 New White Paper: Managing Social Media Risks in Schools
To download a copy of this White Paper, click here.
About this episode's presenters and guest
Deborah de Fina
Principal Consultant - Child Protection, CompliSpace
Deborah spent five years working with the Royal Commission into Institutional Responses to Child Sexual Abuse where she assisted the Royal Commission to establish the Private Sessions process and subsequently managed its legal aspects. Through Private Sessions, the Royal Commission spoke with more than 8000 survivors of child sexual abuse. Deborah managed and championed the process by which Private Sessions information was embedded throughout the Royal Commission's work in determining and shaping public hearings, in informing the policies and recommendations of the Interim and Final Reports, and in providing examples and narratives for the Final Report.
Prior to working with the Royal Commission, Deborah had her own successful consulting practice where she specialised in the statutory child protection system, legal issues facing children and vulnerable people, and legal aid. She also spent more than nine years at Legal Aid NSW, as a child protection solicitor, Senior Solicitor and then Solicitor in Charge, Child Protection, had two secondments to the NSW Attorney General's Department, and worked on the Australian Law Reform Commission's Inquiry into Children and the Law and at the Juvenile Rights Division of New York's Legal Aid Society. Deborah has a Juris Doctorate and a Master of International Affairs from Columbia University.
Mathew Sinclair
National Child Protection Training Manager, Bravehearts
Mathew Sinclair is the National Child Protection Training Manager for Bravehearts and first joined the organisation in 2013 when he established Bravehearts' Royal Commission services including the information and support line and case management functions. Mathew has a BAPsych and an extensive professional history in the community-based supervision and intervention of sexual offenders. Mathew also has significant experience in project and change management within large organisational settings and is passionate about matching his experiences to support organisations enhance their child protection culture.
Ella Serry
The eSafety Commissioner was established in 2015 as the Office of the Children's eSafety Commissioner. In 2017, the Commissioner gathered some new functions to support a broader range of Australians. However, the safety and wellbeing of children and young people is still heavily focused on because they still constitute some of the most vulnerable people online. Ella works in the education space which is primarily focused on educating children and young people and supporting their parents, carers and teachers. Her work in the education space aims to stop issues before they arise but also supports children and young people to build skills, so they know how to respond if an online safety issue does occur.