The recent extremely hot weather conditions in several states and territories and the bushfires in NSW should act as a timely reminder that schools, and not just those in regional centers, need to be prepared for bushfires and the raft of potential life threatening hazards that can accompany them. Even schools set in suburban landscapes can be affected by bushfires if they have bush areas on campus or if they are in proximity to public open space or small pockets of undeveloped land.
The importance of schools being bushfire prepared is especially important in Victoria where it is a condition of registration that all non-government schools implement policies and procedures to comply with the VRQA Guidelines for Registered Schools on Bushfire Preparedness. In Victoria, bushfire season is during October-April.
But of course, in a country like Australia, schools in all areas can be at risk for fire. "What is really very clear is that the conditions for a catastrophic fire are in place and we expect these conditions to continue in a warmer climate." "It becomes not a question of if but a question of when we will be seeing devastating bushfires." (Sydney-based Fire and Rescue NSW and member of the Firefighters Climate Alliance, Jim Casey ). Note that the Catastrophic Fire Danger Rating has been added to the Australia-wide Fire Danger Rating system since the 2009 Black Saturday bushfires in Victoria.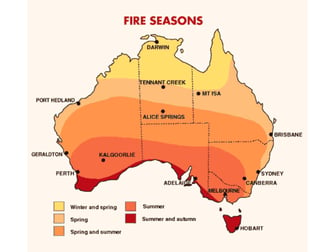 According to an Australian Government report, 'Living in a Land of Fire', the seasons in which fires typically occur vary across the Australian continent; fires in northern Australia occur during the dry season in 'winter' and 'spring', while in the southeast and southwest the fire season is in summer and autumn. The Bureau of Meteorology produce a simplified map that identifies, at a glance, when fire seasons take place across the country.
Many state or territory bodies advise of their fire danger season dates for each of their regions such as this South Australian example. In addition, the Climate Institute produces a fact sheet that assists in dispelling the myths associated with fire seasons in Australia.
For schools in the southern half of the country, the return to school after the long summer vacation break also heralds the commencement of a peak time for bushfires and other fire related incidents.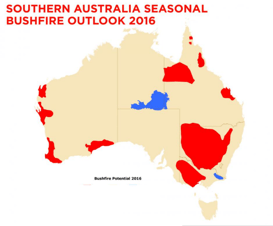 The Bushfires and Natural Hazards Cooperative Research Centre Australia develop the Seasonal Bushfire Outlook for Southern Australia annually. Fire authorities from around the country use this to make strategic decisions on resource planning and prescribed fire management for the upcoming fire season. This map indicates areas of bushfire potential with red being above normal, yellow normal and blue below normal.
At first observation of this map, it is clear that many metropolitan and regional non-government schools can be found in the areas of the map identified as being 'above normal' for bushfire potential for the 2016/2017 fire season.
Using this information and by having an in-depth knowledge of local regions and historical bushfire behaviour in each region, each state and territory government or their relevant bushfire authority produce their own policies and guidelines for bushfires; such as these examples from the ACT, NSW, Tasmania and the NT.
The Western Australian Department of Education publish an outstanding document, 'The Principal's Guide to Bushfire'. This document, although written for government schools, has been adopted and adapted by many non-government schools in WA as it provides up to date and common sense advice for principals wishing to reduce the risks associated with potentially life threatening bushfires. As per the Department of Education Services Guide to the Registration Standards and Other Requirements for Non-Government Schools (2017 - pg 57), it is also a general student safety requirement in Western Australia for non-government schools to have policies and procedures addressing bushfire preparedness for re-registration purposes.
So, what should schools be doing as a minimum to ensure that they meet duty of care requirements for their students and staff with the possibility of a heightened summer bushfire season? Below is a list of suggested steps which could be undertaken in addition to complying with legal and regulatory requirements.
Have your school regularly (possibly annually) assessed by a qualified consultant or company regarding its bushfire risk status. An example can be found in South Australia. A consultant may also be able to assist your school with the development of a bushfire management plan.
Log onto your state or territory (or regional) fire service website (for example - The Department of Fire and Emergency Services WA) to access the wealth of fire safety information that is available and to access the most up to date fire warnings. If possible, enrol your school to receive the email and phone warnings issued by many fire and emergency departments. (Note that this could result in many emails as the services usually do not or cannot send regional specific warnings to specific organisations).
Regularly log onto the Bureau of Meteorology (BOM) website to access the most up to date weather patterns and warnings regarding severe weather conditions and fire condition warnings.
Regularly log onto the department of parks and wildlife in your state or territory. Some fire warnings that take place in gazetted parks and on commonwealth land may be reported by the relevant parks authority.
Log onto the state or territory School Association website and refer to any bushfire policy guidelines that may be available for school use. The Associations may provide advice for their member schools as noted in the Department of Education Services Guide to the Registration Standards and Other Requirements for Non-Government Schools, 'AISWA has developed Bushfire Management Guidelines. Schools may also wish to consider the appointment of an independent bushfire consultancy firm to provide a bushfire management plan for the school.
Monitor ABC Radio in your local area- the Australian Broadcasting Commission receives fire and emergency services as well as BOM Fire Weather Warnings for most areas of the country- they broadcast these warnings as and when necessary.
Appoint a member of staff (or two) to monitor the fire and parks services and BOM websites on a daily or more regular basis, depending upon fire warnings and the BOM Fire Weather Warning for your region. Note that if your school has students who are attending a camp site or another venue off site that a responsible supervisor for the camp/tour excursion should be allocated this role.
Prepare the physical surrounds of your school. This means meeting your local government firebreak regulations, having 'fuel' sources cleared at least 20m from around buildings - an Asset Protection Zone (APZ), removing tree branches that 'overhang' buildings, being prepared for 'ember attacks' by ensuring that air-conditioners can be turned off and by having no leaf litter and other fuel sources in guttering or on roof spaces, ensuring that all evacuation paths are clear of clutter and that your on and off campus 'safer zone' is prepared and ready in the event that it must be used to save lives.
Have an up to date and working Emergency and Critical Incident Plan that includes bush fire or fire preparedness, lock down (to a safer location on campus) or evacuation (to a safer location off campus). This should also include out of hours events. Has this plan been communicated to all of your students, staff, relief staff, parents, student transport company and the local police, fire or other emergency services offices?
Has your school conducted emergency evacuation or lock-down drills? Is one planned for early in the first term?
Does your school have clear communication plans and strategies, including direct communication with emergency services? This includes having emergency communication equipment, class rolls and visitor log books, contact details of parents/guardians, first aid kits, provisions for students with special needs and so on. It is also strongly recommended that schools in regional or bushfire prone areas, develop their bushfire plan with their local fire and emergencies services department and the local police.
It is very apparent that state and territory regulators are including requirements for non-government schools to have up to date bushfire emergency plans. As discussed earlier in this article, examples can be found in Victoria (see this School Governance article) and Western Australia.
Is your school bushfire ready? What are the consequences if you have a bushfire risk and you choose to ignore it?